At the end of the year, Sabre will sunset its popular air contract management solution, Prism Avion. While some have been discouraged by the news, organizations will not go without the air contracting solutions they need: Prime Sourcing, an air contract management solution pioneered by industry-leading corporate travel analytics organization Prime Numbers Technology, is slated to replace Sabre's software.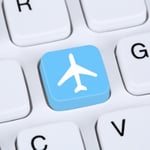 "Prime Sourcing is the premier tool for air contract optimization," says 25-year travel industry veteran Robin Carter. "Its latest functionalities have eliminated the majority of manual processes, which gives consultants, procurement professionals, and travel program managers more time to work strategically."
In addition to auto-loading contract terms, evaluating contract and proposal performance has been simplified with new summary and comparison capabilities. Reporting also includes more relevant and segmented information, including fair market share (FMS) data, non-discounted spend, shift of share tolerance, target risk scoring, and more.
Grasp Technologies has been among the first to benefit from the latest enhancements. "Our collaboration with Prime has resulted in tools and analytics that allow sourcing to be completed more efficiently than ever before," says Brian Tripplehorn, Vice President of Consulting Strategy at Grasp Technologies. "As a component of the Grasp ApexAIR sourcing platform, Prime Sourcing has allowed my team to focus on strategy, bringing our expertise to the forefront for the benefit of our clients."
Prime Numbers Technology is committed to providing the most robust analytical tools in travel. Contact us to learn more about Prime Sourcing and how our solutions drives better business decisions.
To set up a discovery call, please fill out the form below: